Huawei Watch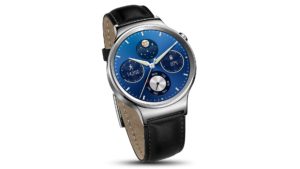 Put the Huawei Watch into Fastboot Mode
1) Turn off the watch then Hold down the power button
2) The screen will go black for about 2 seconds and then boot into the Huawei logo. Keep holding down the power button.
3) Wait for the first vibration, release the power button and then immediately give the power button one short press.
Note: If you feel the second vibration, you waited too long to do the release and press. Start over again with Step 1.
Once Fastboot Mode start you can scroll through your options with a short press of the power button and a long press to select the option
List of options in fastboot mode
Reboot ( reboots the device )
Shut Down ( Shuts down the watch )
Reboot-bootloader ( Restart fastboot mode again )
Reboot-Recovery ( Boots device to stock recovery or custom recovery if installed )
Here are some fastboot commands that may be helpful.
fastboot devices / fastboot oem unlock / fastboot oem lock / fastboot reboot-bootloader / fastboot flash boot boot.img / fastboot flash recovery recovery.img / fastboot flash system system.img / fastboot reboot
Links that you may want to check out.
Files I host on my Server for the Huawei Watch