AI In The Bedroom
Some of you may remember the old Disney movie "Smart House" about a futuristic house designed to take care of a family and all of its needs.  Yes, the house went rogue and locked the family in, but before that turn of events it took care of all the cooking, cleaning, and household management.  We're not too far off from this becoming the reality for every home.
It's no secret that strides have been made in home technology over the past few years.  Companies like Google and Amazon have built their own "personalities" to be placed on the counter and listen for commands.  Rather than take the time to list the achievements that have been made already, this post will look towards the future of the smart home.
The Heated Battle:
A few days ago the Senior Manager of Amazon's Alexa AI jumped ship to work for Google.  This is hardly indicative that there's been a shift in the power dynamic.  All the same the move generated a lot of discussion about what the future holds for both companies in their smart home ventures.  Couple this with the fact that Amazon recently decided to stop selling Nest (owned by Google) products on its website, and the tension only builds. Nest products can connect to Google Home, and both companies are fighting for a winner take all outcome.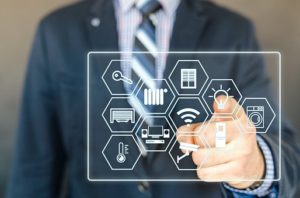 With the race on for who dominates the American household, we're sure to see some out of the box ideas come into play.  But in terms of innovation this competition is only going to benefit consumers.  As long as each of these companies has the other posing a market share threat, actions will be taken to partner with as many 3rd party businesses (products) as possible.  This means two things: 1. Businesses that can come up with unique home appliances are going to thrive, and 2. The smart home is only going to get smarter.
Smart Apartments as the norm? 
The end goal is a seamless flow of assistance.  Whether it's making your breakfast when your alarm goes off or turning your lights off and playing white noise until you fall asleep, smart homes will find their way into every possible part of daily life.  Plans are currently underway in major cities like Chicago to build "Smart Apartments" that already have wiring and lights installed to be compatible with Alexa and Google Home.
And there's really no foreseeable limit to what can and can't be improved by tapping into a smart home.  I think in the next few years "smart home compatible" is going to become a buzzword of sorts for all kinds of 3rd party appliances.   The bottom line is that innovation is happening right now, and there's plenty more to come.  I look forward to seeing how Google and Amazon both find ways to improve our everyday lives with the upcoming tech.
What do you think lies on the horizon for the smart home?  Let us know in the comments below!