Google Glasses 2.0 In Sight
You guys all remember Google Glasses right?  The augmented reality headset designed to look like regular glasses, but do so much more? Well you might, but you probably didn't get to know them too well because they flopped pretty hard in 2014. But don't worry, Google Glasses 2.0 are here and look promising!
2ndTry's the Charm:
The Glass Enterprise Edition 2 is on the market for $999.  Kind of.  It's not being sold direct to consumers yet, but instead is entering the corporate world. The goal of these glasses is to "meet the demands of the growing market for wearables in the workplace" according to a post by Google.  Of course given enough time I'm sure we'll see them used for fun too!
When Google first released the glasses, they were aimed at the public, but they received a lot of backlash for issues related to privacy.  It also didn't help the glasses didn't always work as intended.  Due to the complaints the focus turned towards professional uses such as surgery or factory work.  The business focus is sticking around for 2.0 as Google attempts to nail down a target market before expanding.
The Specs (Get it??):
2.0 actually looks a lot like the original Glass design.  Instead of a full headset like Microsoft's HoloLens, Glass actually looks like a simple pair of black thick rimmed glasses.  But it can do quite a bit more than regular spectacles.  It has a new processor, a souped up camera, and a better battery for longer life.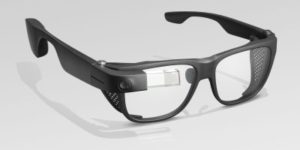 Google says that the new headset incorporates computer vision and advanced machine learning capabilities.  Using Lens it can offer features like sign translation or info about restaurants nearby. It runs on Android, so there's no reason to start moving away from the core topics off app development.  Instead they'll be incorporated into newer forms of technology like this one.
Putting the Competition in Focus:
Unlike some of the other headsets we've seen in recent years, Google's Glass Enterprise Edition 2 actually looks like a pair of regular glasses.  So regardless of what it can do, that's already a good step in the right direction.  The less invasive a piece of technology can be the better from a user's experience. It's available in a frameless version or with a Smith Optics supplied safety frame (for use in manufacturing type jobs).
Glass is augmented reality focused with this smaller hardware, whereas some other entrants have focused on virtual reality.  Take the Vive headset for example.  It's a complete headset that wraps around your head and obscures any vision unless it's turned on.  The end result of course being that you can see into whatever virtual world is created. Glass instead builds on top of the real world.  In this sense it's more like Magic Leap.  And with strides in ARCore over the past few years the ways it can interact with everyday objects are probably pretty impressive.  It's important to consider this when thinking of competing forces. There are multiple headsets, but they also don't necessary completely rule out one another.
What are your thoughts on the new Google glasses?  Let us know in the comments below!