Android One.  Two Different Strategies
Rumors have been spreading about the new Motorola One Power.  This week we got a glance at what's coming to the market, and you may not be surprised to see that a notch is involved in the desgin.  A lot of Android phones this year have been mimicking the iPhone X's newest feature, but there's a lot more to the One Power than just how it looks.  It's the head of a movement.
The One Power is sure to be a quality phone for its users.  At least a lot depends on it being that way since it will be the newest phone to carry on the Google One movement.  That movement began in 2014 as an attempt to capture the "next billion Android users" in developing countries.  It aimed to provide smartphones with current software at sub-100 dollar prices.
But How?
Typically this was possible by severly limiting specs like storage and RAM.  Users don't have to spend much, but they can still experience all the cool new features versions like Android P have to offer.  Meanwhile Google gains a hold on smartphone marketspace that might otherwise not be filled due to price restrictions.  It's a win win.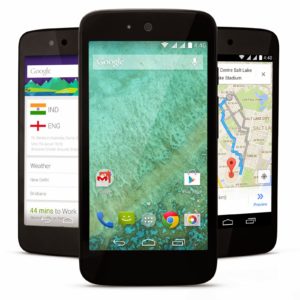 At least that was the plan back then.  4 years later and the Android One movement didn't take off exactly as the marketing team planned.  Sales faltered for the lower end phones due to their lack of being positively distinguished from their more expensive counterparts.  Appearing somewhat clunky, budget phones didn't sell well, and there's still a large population out there that is waiting to be capitalized on.  Android Go rose to take Android One's place as the budget movement recently, and it looks like this new burst of marketing may have a better outlook.
Down But Not Out
That being said, Android One didn't fade into oblivion, but instead decided to change its strategy.  It's risen its price range to the $250-400 mark and in turn is producing sleeker more "high-end" looking phones that run on the newest softwares.  These phones are still more affordable than some, and this is thanks to the movement's slogan "Everything you want.  Nothing you don't."  The phones don't have a bunch of manufacturer customizations, but instead function similarly to Nexus and Pixel phones today.  They have Google's apps built in, and run the latest Google software, but that's just about it.  This is great if you're not looking to spend a fortune and you also don't feel the need for the extra add ons.
The One Power Up Close
The Motorola Power One will be prominently displaying a notch on its front along with a vertical dual carmera placement on its back.  Couple this with curved edges and a fingerprint sensor and we're looking at a pretty stylish phone.  Whether you like the iPhone X or not, its undeniable that it's style has set a trend that others a following.  How the software on the inside runs is a whole nother store though!
Do you have any thoughts on the new Motorola Power One?  Let us know in the comments below.