The Pixel 3 Leaks Just Keep Coming!
If you're a phone junky then you've probably been following all the buzz surrounding the upcoming Pixel 3.  And if you haven't been but are interested in catching up, then you've come to the right place.  Rumors and leaks galore have been floating around this week and late discussing what the Pixel 3 and Pixel 3 XL have in store for users.  Let's discuss:
It's Huge:
I'm not just talking about the hype.  The Pixel 3 and Pixel 3 XL are going to be larger than their predecessors (is anyone surprised?).  Measuring in at 5.3'' and 6.2'' respectively these phones will be giving the iPhone X a run for its money in terms of screen real estate.  And also much like the iPhone…yep you guess it, there's a notch thrown into the mix.
Just like almost every other android phone since the iPhone X's reveal the notch seems to be playing a big role in design practices.  A few images were images have been posted on the XDADeveloper's forum showing a Pixel 3 rocking a notched display, dual front cameras, and a back that appears to be made of glass.
New features:
Why glass on the back?  Well this has led to speculation that wireless charging may be coming back into play.  This feature was discontinued a few years back in the Nexus series after Google's acquisition of HTC.  The argument was…not the strongest.  Google argued that Nexus phones had too much z (thickness) with the wireless charging, and that USB Type-C charging was a much simpler solution.  Maybe more efficient, but its definitely not as cool!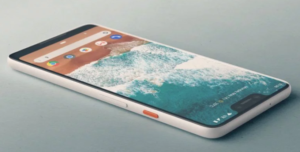 Of course we have to take these leaks with a grain of salt.  The Pixel's camera is a good demonstration of this.  There's been a lot of back and forth about whether one or two cameras are in store for the new device.  Leaked images have confirmed both cases, so its hard to know what's really true and what is just a wannabe, but a series of images leaked by 9to5Google show a single rear camera on a Pixel 3 prototype.  This leak matters as the phone was sporting a mystery Google logo, so it gains another ounce of credibility.
Whatever the case, Pixel's are known for their phenomenal cameras, and when the Pixel 2 came out its camera blew us away.  Since then quite a few other phones have scored higher on DxOMark (a image quality rating site), but at the time the Pixel 2 was the leader.  So odds are the Pixel 3 is going to exceed expectations again and top the charts in this manner.
New Software:
The Pixel 3 is also expected to be the first official phone rocking Android P software.  So new features like RTT-Wi-Fi and auto-adjusting batteries will open new possibilities for both users and developers.  Android P is currently available for beta use if you're interested in exploring it early, but if you're planning on purchasing a Pixel 3, you'll have it in your hands before you know it.  There's no official release date set right now, but the popular opinion is this October.  So close and yet so far.
What are you hoping the Pixel 3 will have that other phones are lacking?  Do you think it will be a let down or a leader in the industry?  Let us know in the comments below!