App Mirroring Has Begun!
Last October we wrote about Microsoft's expedition in linking mobile phones and computers to provide a seamless experience for users. Known as App Mirroring, the goal is to allows users to take any app they use on their phone and use it the same way on a desktop or laptop.  It was just a showcase idea at the time, but now the beta testing has begun!
App Mirroring:
We all love a fluid experience between our devices, yet up to this point in time there has been a noticeable gap between apps and how/if they can be accessed on a computer.  If you want to take your Snapchat conversation and continue it on a desktop, that can prove to be a feat.  With app mirroring the idea is that any app that you can use on a phone can be mimicked on a Windows screen.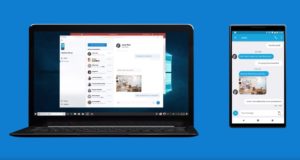 We talked about how this could be exciting not only for users, but for developers too.  It could create another medium for experiences, and thus new types of apps could spring up.  Hard to say what, but that's up the creatives of the world and I'm sure we'll see some cool things.
Device Limitations:
App Mirroring is still a catchy term in my opinion, but the feature is currently named "Phone Screen", and it has a few limitations.  Phone Screen will only be supported on certain types of hardware and requires users to use the latest beta Windows 10 Insiders build.  It will be compatible with Android phones running 7.0 or higher, so if you've bought a phone within the past few years you are probably in the clear there.
Additionally user's PCs will need to support Bluetooth with Low Energy Peripheral mode. And with the Surface Go meeting these requirements, there will likely be a fair amount of compatibility between the app and tablet worlds as well.
Using Phone Screen:
To use Phone Screen as a beta tester you'll simply open the Windows 10 Your Phone app.  In here you'll be able to see a list of all your installed Android apps, and you can select any of them to open the same way you would a phone.
Currently only Windows Insiders running the latest test builds will be able to test app-mirroring (that's how betas usually go), but it's hard to say how long until its available to everyone.  Android users can already use the Your Phone app to see the last couple dozen photos they've taken on their phone.  So the first steps to bridging the gap are actually already here for all of us. It's good to see that trend is continuing with App Mirroring
What are your thoughts on App Mirroring/Phone Screen?  Are there any apps it will be amazing to use on a desktop?  Let us know in the comments below!