In the wake of Chainfire selling SuperSU, Magisk has stepped in to fill the void. The best part about it is that this new root management solution is open source which SuperSU was lacking. The good part about this tool is that the root manager does still work with supersu, if you have already rooted with it. So if you just want to check out Magisk just go ahead and install it on your Supersu rooted device. Magisk is systemless root only which is nice for those of use that still want to use Android Pay or any other apps that check for root access on the device. Also because it doesn't change anything on the system partition you can still take OTA updates without any problems. Just follow these directions below and you to can install it on your device as long as you have TWRP available for your device.
Installation Instructions
Before Magisk installs anything on your device, please note that magisk will create a boot image backup in /data/stock_boot_<sha1>.img.gz
If anything goes wrong (e.g. bootloop), you can either use the uninstaller (recommended) or decompress the backup and manually restore your boot image
It should ALWAYS bring your device back to life (supposing you have a custom recovery that can decrypt your /data)
If you're already rooted with MagiskSU or Latest Official Systemless SuperSU
If you're not rooted, or something went wrong and you need a clean start
(Recommended) Restore your boot image back to stock (flash uninstaller if Magisk is previously installed)
Download the latest Magisk zip file
Reboot to a custom recovery
If you choose to use SuperSU (only support Android 6.0+), flash SuperSU in systemless mode now
Flash Magisk zip
Reboot. Update the stub Magisk Manager to the latest from Play Store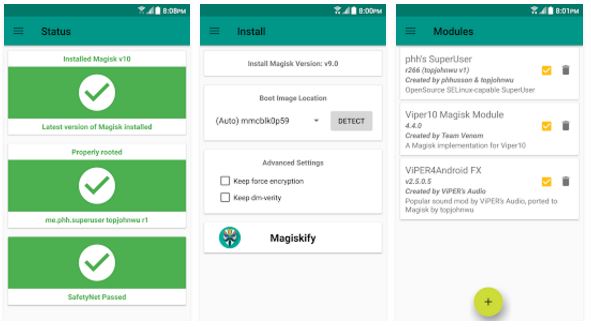 Features
100% fully open source and easy to build!
Magic Mount:
Allow you to do any system (vendor) modification without actually tampering the partitions.
MagiskSU: Open Source Root Solution
Root your device with MagiskSU, based on phh's Superuser, which is based on CM Superuser.
Magisk Manager:
MagiskSU Root Management, Install / Upgrade Magisk in-app,
Manage, Upgrade, Download, Install Magisk Modules within a few taps.
Magisk Hide:
Hide Magisk from detection, including SafetyNet, which is used in Android Pay, Pokemon GO, Mario Run etc.
Resetprop:
Allow you to do any modifications to system props (build.prop), including read-only props.
It is also used for tricking the bootloader state, and (for Samsung) the KNOX state
Multiple Entry Points:
Provide several entry points to developers, reliably pausing the boot process before everything is done.
Include post-fs (cache) mode, which happens even earlier than data is mounted (used to replace Boot Animation etc.)
Standard Stuffs:
Remove dm-verity, forceencrypt; includes a super complete busybox to guarantee consistent behaviour, and can also be toggled to be used universally.
Downloads
Latest Magisk
Latest Uninstaller (Support v1+)
Magisk Manager

If you have installed Magisk on your device please comment blow and let me know your thoughts.