Motorola Moto 360 adapter usb cable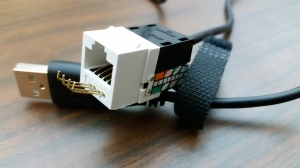 How to make your own USB cable to connect to the 5 Pogo pins on the back of the Motorola Moto 360 under the bottom watch band under the FCC sticker. With this cable you will be able to give the Moto 360 adb and fastboot commands. To unlock the bootloader or maybe even restore a bricked device its up to you. Here are the instructions with some pictures to hopefully help you along.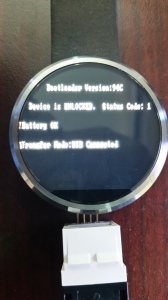 Tools and parts you will need
1. a long usb cable
2. a female cat5 connector from any of these links Home Depot  Amazon
3. par of wire strippers
4. small side cutters
5. little standard screw driver
6. drill and 1/16 drill bit
7. ohm meter
8. needle nose pliers
Useful info on usb cables
 Basically what you are doing is cutting the micro usb end off of the usb cable and attaching a Cat5 female connector to the end with 4 of the prongs pulled out to connect to the pins on the back of the Moto 360. best advise is to watch the video i have on this process here.
Please comment below if you have any questions or ideas on improving this cable thanks
RootJunky Out